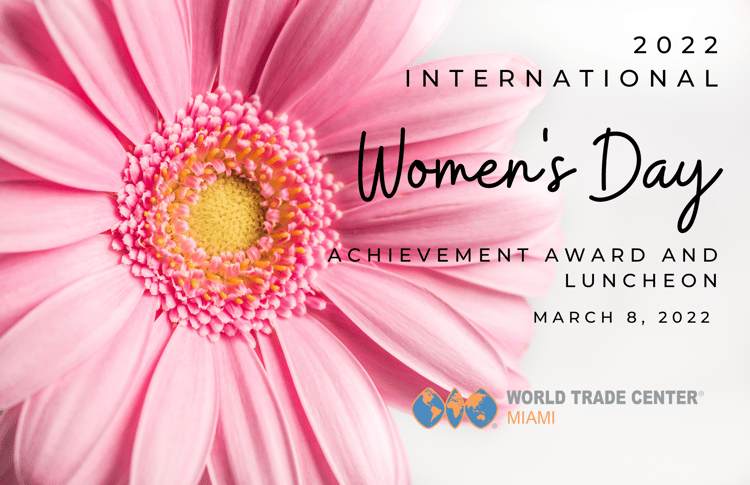 On March 8, 2022 World Trade Center Miami held our annual International Women's Day Award Luncheon.
Since the United Nations began celebrating International Woman's day in 1975, thousands of events have been held around the world each year on March 8th to inspire women and celebrate their accomplishments.

In 1910 100 women from 17 countries came together to establish an Intl Women's Day celebration. International Women's Day is all about unity, celebration, reflection, advocacy and action - whatever that looks like globally at a local level. In 2004, the World Trade Center Miami began this community's celebration of International Women's Day and to date we have recognized 89 women who inspire us, challenge us and contribute to increased trade and investment.

On March 8, 2022 the WTCM honored 10 additional women whose achievements have advanced the promotion of free trade and international business in the Americas. To view the list of prior recipients, click here.

To increase the awareness of women whose achievements have advanced this mission, the World Trade Center Miami's International Women's Day Committee created a mentorship program for young women interested in international business, trade and logistics.

Today we have 23 organizations and companies that are generously hosting a student at their table from various colleges and universities. This is an important first step as it offers the mentees an opportunity to actively participate in this event, to be introduced to and forge connections with the many talented professionals in the room. This additionally helps them gain an understanding of how important international business is for this community and how their involvement is crucial to the advancement of women in these fields.
Special thanks to the following higher education institutions for participating in our mentorship program: Florida Memorial College, Florida International University, Miami Dade College and University of Miami.
The event also featured a special program on Women's Wellness and Flowers.

Special thanks to
The Honorable Daniella Levine Cava, Mayor of Miami-Dade County and our Master of Ceremony Jackie Nespral, Emmy Award Winning Journalist, NBC6 News.

Please join us in congratulating our 2021 & 2022 Awardees: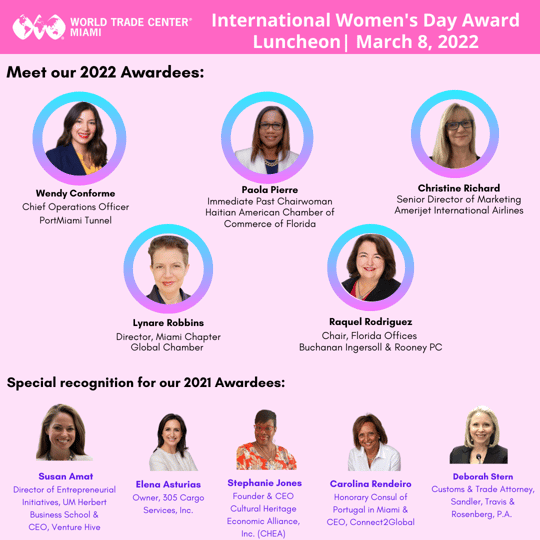 2022 Awardees:
Wendy Conforme, PE, MBA
Paola Pierre
Christine Richard
Lynare Robbins
Raquel Rodriguez

2021 Awardees:
Susan Amat
Elena O. Asturias
Stephanie M. Jones, MBA
Carolina Rendeiro
Deborah B. Stern

Click image below to view our event video:

Thank you to our sponsors: